Lemons
Products: Conventional, Organic
Lemons available in the following sizes:
63
75
95
115
140
165
200
235
Available in an assortment of bag and box configurations.






MEYER, SEEDLESS, PINK VARIGATED

MEYER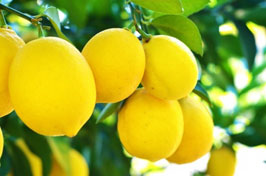 Fresh squeezed lemon in a glass of water is said to cleanse the liver. Lemons are also believed to stimulate the metabolism.
The juice of half a lemon in warm water morning, noon, and night helps eliminate toxins and ease aches.